Army Veteran Says Attacks by Trump Allies on Vindman are 'Disgusting'
Will Goodwin, a U.S. Army veteran and director of government relations for VoteVets, criticized President Donald Trump's comments regarding Lieutenant Colonel Alexander Vindman in a statement released on Twitter. Goodwin called Trump's comments "disgusting" and "disgraceful." While some Trump supporters have spoken out against Vindman, calling him "disloyal," many have been quick to criticize Trump for his statements to discredit the Purple Heart recipient's testimony.
VoteVets.org was originally established to inform American citizens on issues in the Iraq war. They currently address a number of matters including unemployment, foreign policy, labor, immigration, LGBTQ, and environmental issues.
The statement from Goodwin reads, "It is disgusting that Donald Trump's allies have attacked a wounded warrior, like Lt. Col. Vindman, as having dual loyalties to Ukraine, simply because he is telling the truth to Congress about Trump's abuse of power."
Addressing the Colonel's testimony in the Trump impeachment inquiry, Goodwin denies that Vindman is motivated by anything besides the desire to serve his adoptive country. He writes, "It is similarly disgraceful that Trump is saying Lt. Col. Vindman is being political. Lt Col. Vindman is a Purple Heart Recipeint, who put is life on the line for America." Trump had tweeted that Vindman was a "Never Trumper."
Goodwin closed his statement by condemning Trump for speaking ill of veterans, and asking Republicans who have served to join his criticism. "This kind of smearing of our war heroes, Gold Star families, and others who sacrificed for America is the lowest of low politics. All Republicans should denounce it starting with those who served, like Lindsey Grahmam, Dan Crenshaw, and others."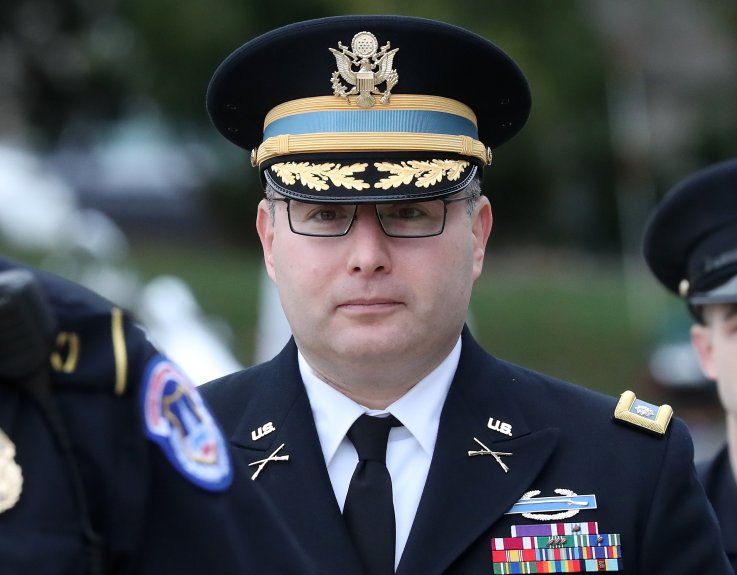 The New York Times reported Monday that Vindman had testified against Trump, telling House committees that he was on the phone call between Trump and Ukrainian President Volodymyr Zelensky, where Trump offered military aid for Ukraine in exchange for dirt on 2020 Presidential Candidate Joe Biden and his son Hunter. The Times reports that Vindman said, "I did not think it was proper to demand that a foreign government investigate a U.S. citizen, and I was worried about the implications for the U.S. government's support of Ukraine."
A number of prominent conservatives have also launched attacks on Vindman, many noting that the Colonel was not born in the United States. Trump tweeted Tuesday morning, "Was he on the same call that I was? Can't be possible! Please ask him to read the Transcript of the call. Witch Hunt."
Goodwin's comments echo those of veteran and Senator Mazi Hirono, who told Republicans and pundits earlier Tuesday to "just back off."