Impeachment query: Trump Ukraine phone call 'inappropriate'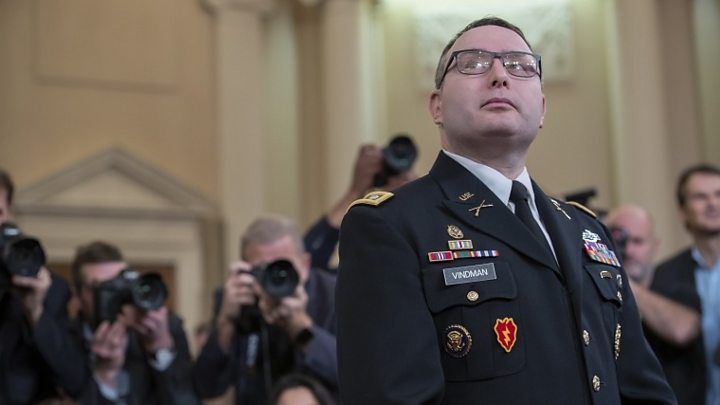 The White House assaulted its own top Ukraine authorities as he testified to an impeachment hearing that a call made by the president was "inappropriate" and had actually left him in "shock".
Lt Col Alexander Vindman told Congress that President Donald Trump made "improper" political needs of the Ukrainian president.
" I could not think what I was hearing," Col Vindman stated.
The hearings are examining whether Mr Trump abused his presidential power.
An embellished Iraq war veteran who serves in a senior role on the US National Security Council (NSC), Col Vindman testified before the House on Tuesday in his Army gown uniform.
As he described his response to hearing a call between President Trump and his Ukranian equivalent, President Volodymyr Zelensky, Col Vindman came under attack by the official White House Twitter account, which published a vital quote from his previous manager on the NSC questioning his judgement.
Republican congressmen pressed Col Vindman on the remark and questioned his loyalty to the United States – inquiring about instances in which Ukrainian officials approached him about becoming the country's defence minister.
" Every single time I dismissed it," Col Vindman said. "I'm an American."
The impeachment hearings are an effort by Democrats to establish whether Mr Trump kept United States military aid to Ukraine in order to press the nation's brand-new leader, Mr Zelensky, into announcing a corruption query into Joe Biden, Mr Trump's leading Democratic competitor for the United States presidency.
If the president were to be impeached by a majority vote in your home of Representatives, he would face a trial in the Senate which might eliminate him from workplace, although the Republican regulated chamber would be not likely to vote against him.
White Home goes on the attack
Col Vindman told the US House intelligence committee that he had actually been concerned by the president's demands to investigate Mr Biden.
" It was most likely an aspect of shock that possibly, in certain concerns, my worst fear of how our Ukrainian policy could play out was playing out," he said.
" It was incorrect for the president to request – to demand – an investigation into a political opponent, especially [from] a foreign power where there is at finest suspicious belief that this would be an entirely objective examination which this would have significant ramifications if it ended up being public understanding," he informed the committee.
He had actually reported the "improper" conversation to NSC attorneys "out of a sense of duty".