Kamala Harris Spars With Amy Coney Barrett on Environment Change: 'You've Made Clear You Believe It's Debatable'
Senator Kamala Harris and President Donald Trump's Supreme Court nominee Judge Amy Coney Barrett tussled on environment modification throughout Wednesday's Senate confirmation hearing.
Speaking via teleconference throughout the hearing, the Democratic senator and vice-presidential candidate asked Barrett whether she "accepts COVID-19 is infectious."
" I do accept that COVID-19 is contagious," the judge relied. "It's an obvious fact, yes."
Harris then asked Barrett whether she accepts that smoking cigarettes causes cancer. "I'm not sure precisely where you're choosing this," she responded. "Yes, every bundle of cigarettes alerts that smoking cigarettes triggers cancer."
In her final concern, Harris asked, "And do you think that environment change is occurring and is threatening the air we breathe and the water we drink?"
Barrett declined to address. "You have asked me a series of questions that are completely uncontroversial, like whether COVID-19 is contagious, whether smoking causes cancer and after that attempting to analogize that to generating an opinion from me that is a really controversial matter of public debate," the judge stated. "And I will not do that, I will not express a view on a matter of public policy specifically when it's politically questionable cause that's irregular with the judicial function."
Harris replied, "Thank you Judge Barrett, you have actually made your point clear that you think it is a debatable point."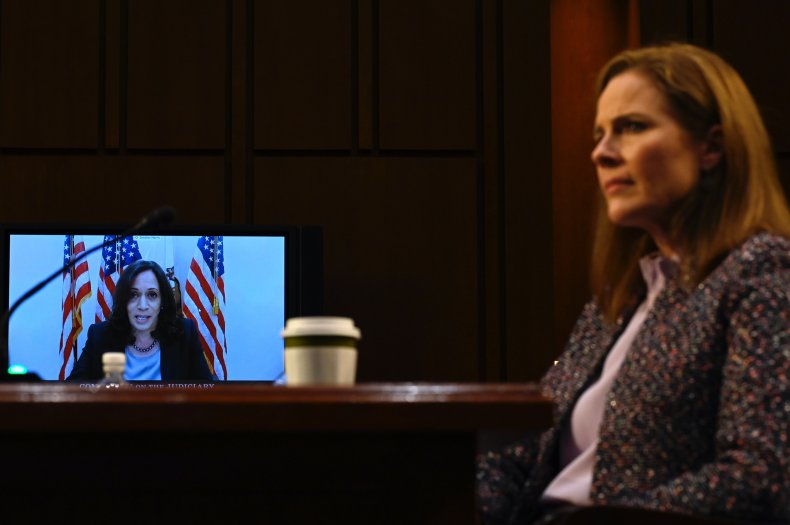 Trump officially nominated Barrett at a White Home occasion in late September.
Democrats oppose Barrett's election and have accused Republicans of hypocrisy for advancing Trump's Supreme Court election with weeks left up until Election Day.
At the time, Republicans pledged to use the exact same guideline for future elections however have backtracked given that the death of Supreme Court Justice Ruth Bader Ginsburg on September18
GOP Senator John Kennedy mocked Harris' line of questioning on Wednesday by asking Barrett a series of obvious concerns.
Kennedy followed up by straight assaulting Harris.