Tag Archives:
Barcelona
Barcelona are now alone in first place of Group F in the Champions League thanks to a tough 2-1 victory over a valiant Slavia Prague team on Wednesday night in the Czech Republic. The Blaugrana scored an early goal, rode their luck, conceded the equalizer and then scored the winner with an own goal, but these three points will be crucial to win the Group of Death.
FIRST HALF
Barça made a fast start to the game, scoring after just three minutes thanks to good pressing high up the pitch, a nice assist by Arthur and an easy finish for Lionel Messi. The Blaugrana looked strong and ready to kill the game, then things completely changed.
Slavia Prague started to press, send bodies forward and create plenty of trouble for the Barça defense, and that's when Marc-André ter Stegen started to shine. The German goalkeeper made at least three key saves, and his stops were the only reason why Barça remained on top.
The Blaugrana could also have scored a big second goal with two big chances for Luis Suárez, but the Uruguayan's finishing let him down big time.
At halftime, Barça had the lead but Slavia completely dominated the match, and they looked ready to score.
SECOND HALF
It didn't take long for Slavia's pressure to give them a second half goal when a long ball from the back wasn't cleared by the Barça defense and Boril found himself alone in the box to score the equalizer. The home team continued to put pressure and create danger, and Ter Stegen once again had to come to the rescue to avoid giving up the lead.
And just when Barça looked completely on the ropes, they took the lead back: Messi with the free-kick, a deflection off the Slavia defense and a great improvised finish by Suárez that hit Olayinka before going in.
Barça's goal was a big blow to Slavia who struggled to attack and started to leave some huge spaces at the back, and Barça started to create chance after chance to kill the game. Suárez and Messi somehow wasted two golden chances in front of goal, however, and the game was still wide open as we reached the final 15 minutes.
Slavia went forward even more and sent as many crosses into the box as they could, but Barça managed to weather the storm and the final whistle came to end a brutally tough game. It was as difficult as advertised, the performance didn't help, but this win is huge for our chances in the group.
Phew.
---
Barcelona: Ter Stegen; Semedo, Piqué, Lenglet, Alba; De Jong, Busquets (Vidal 77'), Arthur (Rakitic 83'); Messi, Suárez, Griezmann (Dembélé 68')
Goals: Messi (3'), Olayinka (OG 57')
Slavia Prague: Kolar; Coufal, Kudela, Hovorka, Boril; Soucek, Sevcik; Masopust (Van Buren 76'), Stanciu (Husbauer 76'), Zeleny (Tecl 45'); Olayinka
Goal: Boril (50')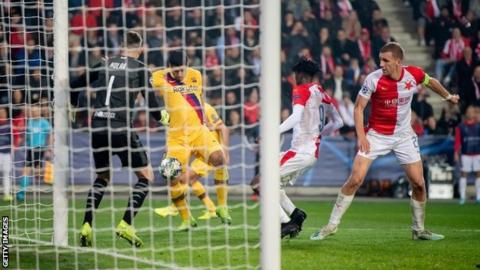 Lionel Messi ended up being the first player to score in 15 successive Champions League seasons as Barcelona declared a narrow win at Slavia Prague.
Captain Messi provided Barca an early lead with a newbie surface after an exchange of passes with Arthur.
The Czech champs were deservedly level when Jan Boril poked home Lukas Masopust's pass from 16 lawns.
But Messi's free-kick found Luis Suarez at the back post – and his cross-shot struck entered off Peter Olayinka.
Barcelona, who are leading of La Liga, have now won 6 successive video games in all competitors.
The outcome keeps Ernesto Valverde's side top of Group F on 7 points from three games, three points above Inter Milan and Borussia Dortmund.
Those 2 sides met at the San Siro in the group's other game, with Inter winning 2-0. Lautaro Martinez scored and had a charge conserved prior to Antonio Candreva's late clinching goal.
Barca were fortunate to go three points clear at the top – with Slavia deserving more from the video game.
The Prague side had more shots – and efforts on target – than Barcelona, most notably a 60- second spell when Marc-Andre ter Stegen came down low to reject Lukas Masopust and after that tipped Olayinka's curling effort over the bar.
Barca were holding on at the end, with Tomas Soucek and Olayinka having actually headers saved in injury time.
Slavia were the 33 rd side Messi has actually scored against in the Champions League – a joint record with Cristiano Ronaldo and Raul.
While he has actually scored in 15 seasons in a row, the Argentine is still one except Manchester United legend Ryan Giggs' record of scoring in 16 various Champions League seasons.
The captain might have scored more but was denied by keeper Ondrej Kolar before shooting large from close range.